Daniela Blume(nude, explicit handjob, blowjob), Queralt Riera(nude, sex), Saskia Condal(nude, explicit blowjob) & unknown(explicit handjob, blowjob) in spanish short "Que glande es el cine!".
http://www.mediafire.com/?43spoka663ayl8l
This is a heavily cut version of a catalan short movie that was shown in an iberian film festival about sex in cinema. At one point a documentary about this film with extra nude/sex scenes was aired on spanish tv(show called "todos ahhh 100"), have yet to find that footage anywhere.
Blonde is Daniela Blume, I don't know the name of the older actress anymore, young blowjob brunette is Saskia Condal and the thicker brunette in final sex scene is Queralt Riera. Aside from Saskia the actresses aren't pornstars and pretty much wanted to bury this film.
Couple of caps from the lost footage: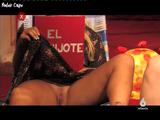 Any help finding it would be appreciated!